I was recently asked to review several editions on Jewish themes. One of the works on the list was Joachim ​Stutschewsky's Kaddish. Stutschewsky was a Ukrainian-Jewish cellist, composer, arranger, and a great promoter of Jewish music in the 20th century. The Kaddish was composed in 1957 in Tel-Aviv and published by OR-TAV Music Publications in 1970. Stutschewsky's Kaddish is a harmonization of the chant sung before the Neilah service on Yom Kippur (Day of Atonement). The same melody was harmonized by Maurice Ravel in 1914. 
The holograph manuscript cover title and copyright information are handwritten in ink by the composer at the end: Tel-Aviv, 30/9/1957. A copy of the holograph is housed at the Martha Blakeney Hodges Collection at the University of North Carolina at Greensboro, inscribed to Maurice Eisenberg by the composer, dated 1961
OR-TAV Music Publications has re-engraved their edition on the Finale music notation software. The original 1970 engraving is now out of print. This is the evaluation of Stutschewsky's Kaddish as it is currently available from OR-TAV Music Publication both printed and digital. Special thank you to the Martha Blakeney Hodges Collection for making the original sources available for comparison.
m. 3 - piano LH missing courtesy bass clef for the lower voice (erroneously missing in the manuscript, too)
m. 4 - piano missing diminuendo
m. 6 - piano LH missing a p on beat 2  
m. 6 - cello part note 3 must be a C-natural, not a C#.
m. 8 - piano LH needs a double dot on note 1 and a 16th note on note 2 
m. 8 - cello part has a mf in the manuscript (MS)
m. 10 - piano LH sloppy notation on note 1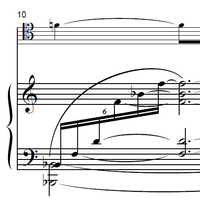 m. 10 in OR-TAV (new edition)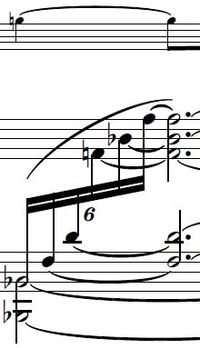 My suggestion
m. 13 - piano LH sloppy notation on note 1 
m. 15 - piano LH sloppy notation on note 1 
m. 15 - first edition cello part has an "a tempo." The MS and first edition score do not have this marking.
m. 18 - piano LH sloppy notation on note 1 
m. 21 - piano LH beat 4 needs a B-flat grace note, not a B-natural 
m. 22 - piano LH missing bass clef on beat 3 
m. 22 - piano LH beat 4 has an unnecessary rest, and it is sloppily placed 
m. 24 - piano LH sloppy notation on note 1 
m. 25 - piano LH beat 3 has a D above the G on the 8th note in the MS 
m. 26 - piano LH has a cresc. hairpin on beats 3-4 in the MS 
m. 27 - staff collision 
m. 27 - cello part does not have a note on beat 5 in the MS
m. 30 - piano RH beat 1 rest is misplaced 
m. 31 - beats 1-2 have a dim. hairpin in the cello and piano parts in the MS 
m. 32 - piano LH sloppy notation on note 1 
m. 34 - cello part only has the top D's in the MS. The first edition has the lower voice, too.
m. 35-37 - piano LH sloppy notation on note 1 
mm. 35-37 - piano part has tenuto marks on beats 3-4 
m. 37 - piano LH sloppy notation on beat 2 
m. 38 - m. 10 - piano LH sloppy notation on beats 1 and 3 
m. 43 - the hairpin must be on the piano LH starting on beat 3. mp dim. missing on beat 2 
m. 48 - first edition cello part has a staccato mark. MS and first edition score do not have this mark.
m. 48 - piano RH sloppy accidental placement on beat 1 



m. 48 - piano LH beat 4 B-flat must be tied to the next measure 
m. 49 - piano LH sloppy notation on note 1 
m. 50 - piano part has a p on beat 2 in the MS 
mm. 51-52 - piano LH missing 8th rest on beat 1 
m. 53 - piano RH missing a tied over F from m.52 
m. 53 - piano LH beat 1 note F is a half note in the MS 
m. 54 - piano RH rests are not in the MS 
m. 55 - piano half notes have accent marks in the MS 
m. 55 - piano LH beat 1 missing a courtesy natural on note F 
m. 56 - piano note 1 in both hands has an accent mark. 
m. 56 - piano part beat 2 has a marcato under note 2 in the MS
m. 56 - piano RH beat 3, note 2 of the triplet, the middle voice has a C# instead of a D in the MS 

m. 56 in the manuscript
m. 57 - cello part has a dim. hairpin instead of the cresc. in the MS