What is more popular than the Suzuki Method? This rhetorical question is meant to make you think about the influence of the Suzuki Method on generations of musicians for the last half-century. The issue of composer and title attribution is as old as music itself. Three things can happen when we do not know the composer or title of a music work: 1. attribute it to "anonymous;" 2. attribute it to the likely composer; 3. call it a folk song. All three options are around us every day, whether we say, "that sounds like a piece from the Classical period," or, "that song is so 1980s." As a method of great influence, I believe that the Suzuki Method, now published by Alfred, owes its consumers the latest in musical scholarship, especially since the scholarship is easier than ever to obtain. 
I would like to compile a comprehensive (by no means exhaustive) list of works where the Suzuki Cello Method, and by extension violin and viola methods, err in composer and title attribution. I hope that my list will be helpful to the next generations of teachers and students using the Suzuki Cello Method.
Book 1
No. 1 - Let us start with the most controversial. Fair, Suzuki himself wrote variations on "Twinkle," as did Mozart, Dohnanyi, and many others. But the melody itself is "Ah! vous dirai-je, maman," a song published anonymously in the 1760s, not "Twinkle." The song is a gavotte, starting on the second big beat, as most gavottes do. To many, this may be a small thing, but right off the bat, the Suzuki Method presents a piece with wrong phrasing. It would have been better to write the piece in 2/4 like Mozart if Suzuki did not want to deal with starting a piece on an upbeat.
No. 2 - It's a song called "Les Bossus." In the first picture, you will see Deleplanque's tre​atment of the song in variations. This publication is from around 1780. The second picture comes from Verrimst​'s 1876 publication Rondes et chansons populaires illustrées​.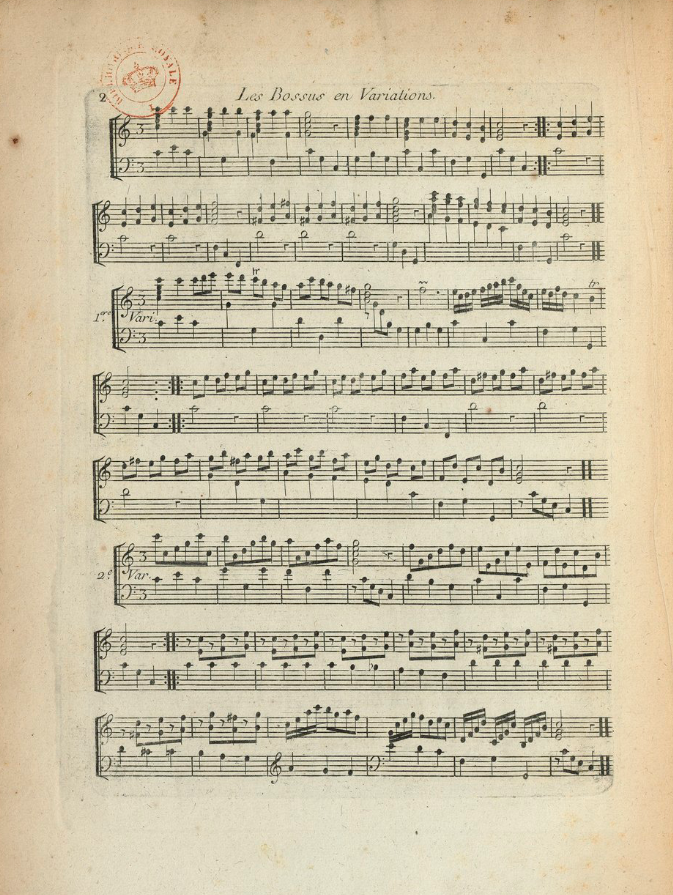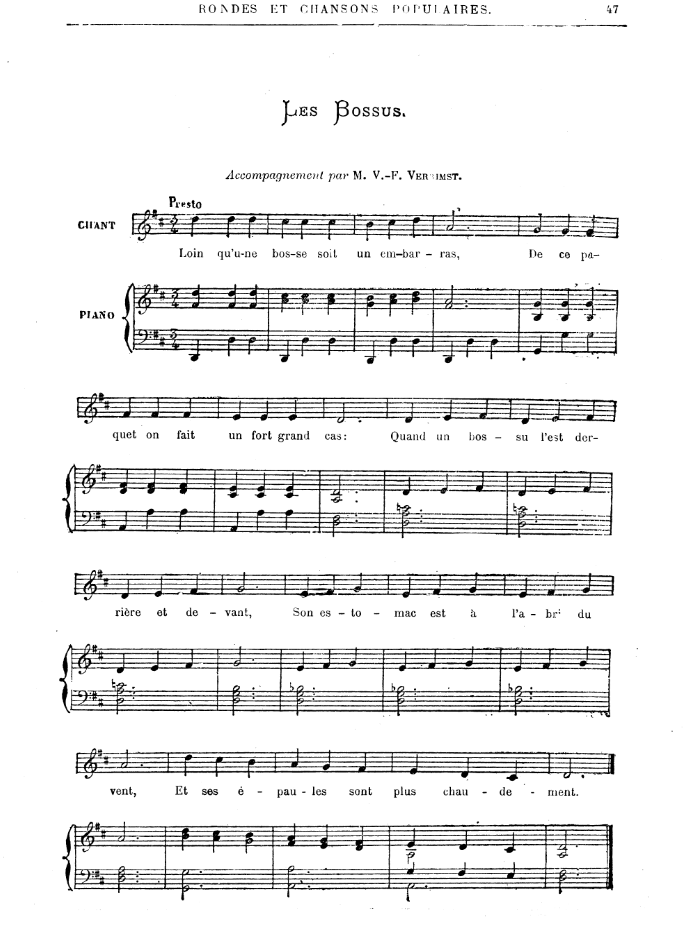 No. 6 - O Come, Little Children (Ihr Kinderlein, kommet) is by Johann Schulz
No. 14 - Purcell's Rigadoon should have a catalog number Z. 653
No. 17 - This minuet from the Anna Magdalena Bach Notebook is not by J.S Bach, but anonymous. There is no shame in letting a piece remain with an anonymous composer.
Book 2
No. 2 - Mozart's "May Time" is K. 596, not K. 96
No. 3 - This is Minuet No. 3 from BWV 822, not Minuet No. 1. Bach's number on this Minuet (No. 3) is following the sequence of the Minuets in the Suite. Minuet No. 1 in the Suite is a completely different piece.
No. 4 - "Bach's" famous Minuet is G is another one of those controversial pieces. It is not by J.S. Bach but by Christian Petzold. There is no shame in saying "Petzold's Minuet in G;" it is a true statement, and should be spread far and wide.
No. 5 - The Chorus from Handel's Judas Maccabeus is correct, but needs the full title, "Chorus: See, the conqu'ring hero comes!," which is No. 35 in the oratorio. The catalog number is HWV 63. It is noteworthy that Beethoven wrote 12 brilliant variations on this melody, something cellists can look forward to when studying from Suzuki Book 2.
No. 8 - The "March in G" is the finale (No. 10) of J.S. Bach's cantata chorus "Kortte lebe, Kortte bluhe" from BMW 207, "Vereinigte Zwietracht der wechselnden Saiten." This number originated in the collection "Bach for the 'Cello" by Charles Krane. 
No. 9 - The Theme from Witches' Dance by Paganini is partly true. The theme is Paganini's set of variations (Op. 8) called "Le Streghe" (The Witches). The melody was written by Franz Xaver Süssmayr (the composer who was the first to complete Mozart's Requiem, K. 626). This melody comes from Süssmayr's ballet Il noce di Benevento (lit. The Nut of Benevento), commonly known as "Witches of Benevento."
No. 11 - Gossec's Gavotte from the opera Rosine first appeared in a Willy Burmester collection in the first decade of the 1900s. Here is the manuscript in Gossec's hand to the first violin part of the opera.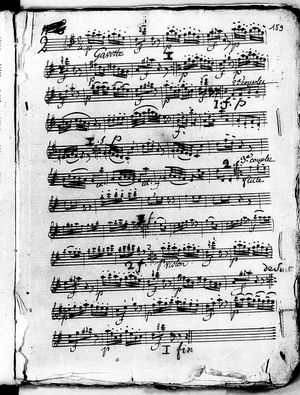 Book 3
No. 2 - This is another "famous" Gavotte, this time by (not) Lully. It has been known for decades that this "Gavotte" is the Rondeau (No. 24) by Marin Marais from his Pièces de viole, Livre 1. The misattribution can be traced back to Moffat and Burmester.
No. 7 - This piece by Petzold, not by J.S. Bach. See Book 2, No. 4 above.
Book 4
No. 1 - Piano part by Carl Schroeder. The Rondo movement is missing 3 bars compared to Breval's manuscript. You may purchase the Urtext edition of the original Breval Sonata here.
No. 4 - Who did the transcription of the Tchaikovsky piece? It looks in part like David Popper's, but not quite all of it. You may purchase a fun arrangement for 4 cellos here.
Book 5
Nos 1-4 - Who realized the figured bass for Vivaldi? It would be more useful to use the RV40 number instead of the Op. 14 number.

No. 7 - This Goltermann movement is not a Rondo. There is no source or 20th-century edition of the Concerto that calls it a "Rondo." This movement is actually in "sonatina" form, a sonata form without development. Other famous pieces in this form are Rossini's Overtures to The Barber of Seville and La Gazza Ladra, Mozart's Overture to the Marriage of Figaro, and Tchaikovsky's first movement from the String Serenade, Op. 48.
Book 6
Breval's "Concerto No. 2" is in fact Sonata Op. 28, No. 1, Rondo. Breval/Feuillard "concertos" and "concertinos" have nothing to do with Breval's original concertos. Concertos composed by Breval are brilliant works, similar to concertos by Haydn, Boccherini, Danzi, and Reicha. Feuillard's arrangements date back to the 1930s. You may purchase the Urtext edition of the original Breval Sonata here.
Book 7
No. 1 - Many of the pieces in Eccles's collection Premier livre de sonates a violon seul et la basse have been identified as plagiarism. The "allegro" or more accurately, the "Courante" presented in the Suzuki Cello School is by Francesco Bonporti, from his Invention Op. 10, No. 4. It is very questionable that the "Grave" is by Eccles. It would also be useful to know whose cello transcription is in the Suzuki Method.
No. 4 - As far as musical hoaxes go, the "von Paradis" Sicilienne is at the top with the "Albinoni" Adagio and the "Frescobaldi" Toccata. This piece is in fact by Samuel Dushkin, not von Paradis. This piece is directly based on Kreisler's arrangement of Weber's Larghetto from Violin Sonata, Op. 10, No. 1.
Book 8 
The misattribution of the famous "Sammartini" Cello Sonata can be traced back to Moffat and Burmester. The version of the sonata used in the Suzuki Method is actually by Martin Berteau. Mvt. III is also found in a set of 12 Cello Sonatas Op. 1 (Sonata No. 8) by Giuseppe dall'Abaco. The thematic idea is based on dall'Abaco's Sonata No. 8, mvt. I. Did Berteau plagiarize? Maybe. Or maybe dall'Abaco plagiarized from Berteau. Sammartini has nothing to do with this piece.
Book 10
The famous "Boccherini" Concerto in B-flat major comes from Grützmacher's Hohe Schule des Violoncellspiels (Nr.6). This work is a re-orchestrated medley of several concertos by Boccherini. 
Mvt. I - Concertos G. 482, 477 and 478
Mvt. II - Concerto G. 480
Mvt. III - Concertos G. 482 and 477