What do many musicians do during the summer? If you said summer festivals, you are correct. What do I do? I spend time with my family, prepare cello rep for the next season, do typesetting/recording projects I had been looking forward to all school year, and cook.
Each summer brings new opportunities. This time last summer, my wife and I had a newborn baby girl. I was preparing for my biggest challenge, organizing my first South Carolina Cello Choir, for which I prepared 15 cello ensemble arrangements. And to relax from all of that, I created a critical edition of Romberg's Eighth Cello Concerto. This summer is much lighter. I am preparing to play my first Bach Suite marathon in September and doing research on Alexander Jemnitz and Jerzy Fitelberg. What should I do to relax? Naturally, try new recipes.
If you invite me to your house and give me the remote to your TV, within 2 minutes I will be watching the Food Network. Back in May, I was exploring some recipes on YouTube and decided that I'm hungry for some pilaf. Who makes better pilaf than Uzbeks? Arguably no one, so I typed in "Uzbek pilaf" in the search bar, in Russian, of course, and the first hit was a chef by the name of Stalik Khankishiev. Stalik is kind of like Emeril and the Barefoot Contessa rolled into one, only the Uzbek version. His logo is a smiley face made from his Russian initials "CX."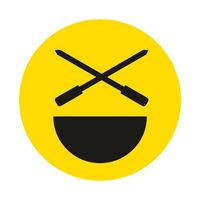 Long story short, my entire family went shopping for the proper rice for the pilaf, which finding in Greenville, South Carolina, is pretty much impossible. I had to substitute vadi matta rice for the traditional Uzbek dev-zira rice. The recipe was so good that my kids were asking for seconds. This "Ferganian pilaf" is usually accompanied by a tomato/onion salad. For those of you who love to cook, I am including the recipe below. Bon appétit!
ingredients: 
28oz devzira rice (or matta) 
cottonseed oil (or grapeseed oil) - to coat the bottom of the pan 
onion (one quarter) 
5oz onion (chopped) 
28oz carrots (chopped) 
28oz beef/lamb (cubed) 
1 teaspoon salt 
1 teaspoon cumin 
2 whole chili peppers 
1 head of peeled elephant garlic (or regular garlic)
preparation: 
pour 140*F salted water over the rice in a bowl (let stand for 1.5 hours) 
put oil in a hot pot 
put quarter onion in the oil. pull out once it has lightly browned 
add chopped onions until browned 
add meat until browned 
add carrots and cumin 
lower heat 
add boiling water and let simmer for 40 minutes 
after 40 minutes add whole (peeled) garlic and whole chili peppers 
add tablespoon of salt 
gently wash the rice with warm water in a sieve
cover the contents of the pot with rice 
bring to boil and stir 
once the water evaporates, let simmer 
cover the rice in the pot with a plate and a paper towel covered with the lid for 40-50 minutes (replace paper towel a few times) 
tomato/onion salad: 
cut onion into small half rings and wash with cold water in a colander 
cut chili pepper in half, remove seeds, chop pepper 
chop cilantro (or parsley) 
slice 3 tomatoes very thinly 
add 1 teaspoon salt 
crack pepper 
mix